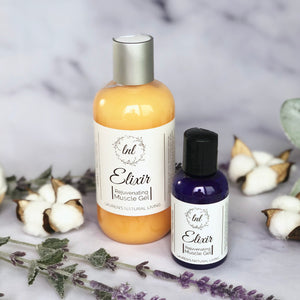 Elixir Rejuvenating Muscle Gel
Regular price
$9.99
$0.00
Elixir Rejuvenating Muscle Gel: Unveil True Comfort and Vitality
Experience unparalleled comfort for your weary muscles with the extraordinary Elixir Rejuvenating Muscle Gel. Meticulously crafted to deliver exceptional relief, this gel combines the perfect blend of cooling menthol, invigorating camphor, and an array of muscle-soothing essential oils. Embrace the revitalizing icy-hot sensation as it gently melts away discomfort, providing a renewed sense of well-being.
Key Features:
Nature's Restorative Touch: Immerse yourself in the soothing power of nature as cooling menthol, invigorating camphor, and essential oils work harmoniously to invigorate and restore your muscles.
Dual Sizes for Ultimate Convenience: Choose between our generous 8oz bottle with a user-friendly dispensing cap for home use, or the compact 2oz travel size to carry relief with you wherever you venture.
Versatile Relief: Whether you're recovering from intense workouts, soothing muscle strains, or seeking relief from discomfort, our potent gel caters to a variety of needs.
Rediscover Vitality: Reclaim your body's vitality and enjoy newfound freedom of movement. Elixir Rejuvenating Muscle Gel empowers you to relish life's moments with enhanced vigor.
Elevate Your Comfort Ritual:
Generously apply Elixir Rejuvenating Muscle Gel to areas of tired muscles, gently massaging for optimal absorption.
Avoid contact with eyes and sensitive areas.
After use, ensure thorough hand washing.
Unlock a realm of genuine comfort and embark on a journey to invigorated vitality with Elixir Rejuvenating Muscle Gel. Unleash the revitalizing potential of cooling menthol, invigorating camphor, and essential oils to redefine your well-being and embrace a life free from discomfort. Prioritize your self-care journey and empower your body with the replenishing magic of nature's finest elements. Experience the true essence of restoration today.
It works!
What can I say? It just flat out works. I can't believe how fast it goes to work. Usually can tell in seconds.
muscle jelly
it's perfect! don't change a thing
Love It!
This is the most wonderful muscle jelly out there. It's not overly hot but does the trick! And it washes off real easy and the scent is very nice.
Great stuff!
My customers are giving me feedback that they love this muscle jelly! It has done the trick where others have failed. The scent is nice, not too strong...thank you for your quality products!!
Awesome
This stuff is every massage therapist dream! It completely relaxes the muscles giving the perfect warmth needed. My clients love it!
---
More from this collection