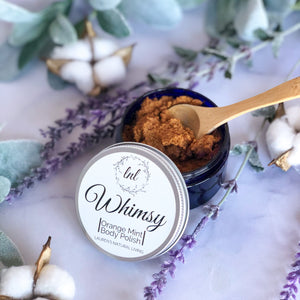 Whimsy Orange & Peppermint Body Polish
Regular price
$13.99
$0.00
Indulge in Decadent Revitalization: Whimsy Body Polish
Elevate your self-care routine with the luxurious Blissful Body Polish, a sumptuous delight that pampers your body and lips with a lavish treatment. Immerse yourself in a realm of ultimate softness and nourishment, as the delicate blend of oils embraces your skin, leaving behind a light, lustrous veil. Crafted with the harmonious fusion of blood orange, alpha hydroxy acids, and walnut powder, this exquisite body polish unveils a gentle exfoliation that unveils younger-looking skin, all while providing a moment of indulgence that rejuvenates the senses.
Vegan and Luxurious:
Our commitment to quality extends to our  Whimsy Body Polish, ensuring it meets the highest standards of being vegan, while indulging your senses with an opulent experience.
Discover the Benefits of Blissful Ingredients:
Blood Orange: Infused with the invigorating essence of blood oranges, this revitalizing ingredient imparts a refreshing and uplifting aroma, creating a sensory escape during each use.

Alpha Hydroxy Acids (AHAs): Derived from natural sources, AHAs gently exfoliate the skin's surface, effectively removing dull and dead skin cells to reveal a youthful, radiant complexion beneath.

Walnut Powder: The fine particles of walnut powder delicately polish the skin, providing a gentle exfoliation that stimulates circulation and promotes the renewal of skin cells, unveiling smoother, revitalized skin.
Experience the harmonious fusion of these blissful ingredients as they work in unison to bestow you with a rejuvenating escape and a truly indulgent skincare ritual.
Revitalize in a Few Simple Steps:
Step into your shower or bath, ready to embark on a journey of indulgence.
Scoop a small amount of the Whimsy Body Polish between your fingers.
Apply to wet skin, gently massaging in a circular motion, paying special attention to rough areas.
Rinse thoroughly and gently pat your skin dry, revealing the renewed radiance that lies beneath.
Unleash the revitalizing power of the Blissful Body Polish and elevate your skincare routine with a touch of opulence. To elevate the experience further, pair with our indulgent Calypso Body Butter for out-of-this-world smoothness. 
WARNINGS: Avoid use on any cuts or delicate areas. Do not exfoliate if skin is sunburned or irritated for any reason. Avoid using all body polishes on the face.
Ingredients: Walnut Shell Powder, Organic Aloe Leaf Juice, Decyl Glucoside, Lauryl Glucoside, Cocamidopropyl Betaine, Phenoxyethanol, Organic Lavender Flower Water, Roman Chamomile Flower Water, Glycerin, Organic Jojoba Seed Oil, Rosehip Seed Oil, Organic Oatstraw Extract, Organic White Willow Bark Extract, Glycolic Acid, Malic Acid, Tartaric Acid, Lactic Acid, Citric Acid, Hydrolyzed Wheat Protein, Provitamin B5, Vitamin E, Sunflower Seed Oil, Blood Orange Oil, Peppermint Oil, Xanthan Gum, Organic Alcohol, Tetrasodium EDTA.
BEST PRODUCTS!!
Excellent products!! LNL products are everything I need in skin care products. Not only have I used her products for years, I find myself giving them as gifts. Pair the body lotion with the scrub, wrap in cellophane with a cute (blue) bow & waaahlaaah! A perfect gift for anyone, especially for the person who has "everything"!
You & yours will LOVE these products!
Feeling Clean and Fancy
This is the best body scrub ever. There is nothing else like it out there. It makes me feel clean AND fancy.
Best scrub ever!
I love this scrub because it has small gains, smells amazing, and works wonderfully to exfoliate. My favorite for body and hands!
Lovely scent
Nourishing, yet effective when used as a facial scrub. Left my skin feeling clean, smooth, & radiant. I love the scent.
---
More from this collection