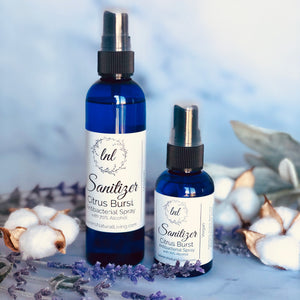 Clearance! Sanitizing Citrus Spray
Regular price
$2.99
Sale price
$7.99
THIS ITEM IS BEING DISCONTINUED- GRAB YOURS BEFORE THEY ARE GONE FOR GOOD.
A powerful alcohol and citrus spray for on-the-go cleansing of hands and surfaces.

70% Alcohol and the hint of citrus make this an excellent on-the-go cleanser for hands and surfaces. This uses the most skin-friendly, sustainable sourced, non-GMO alcohol to keep skin soft and moisturized. Stock up for personal use, at work, in restaurants, and around the home whenever extra cleansing is necessary.
Packaged in a 4oz cobalt blue spray bottle or 2oz travel spray bottle. Picture Coming soon. 
Product Highlights:
-70% Alcohol is a powerful and safe cleanser ideal for cleansing hands and surfaces
-Convenient spray allows you to spray door handles, tables, handsets, and more without having to touch them yourself.
-A delicate citrus scent works in any scenario and is light enough to leave only the mildest pleasant citrus scent behind.
-Sustainably sourced non-GMO alcohol makes this the ideal cleanser to stock up on and supply friends and family.
-Correct water content prevents the alcohol from evaporating too quickly to be effective.

Ingredients: Alcohol, Water, Pink Grapefruit Essential Oil, Lemon Peel Essential Oil, Lime  Essential Oil, Litsea Fruit Essential Oil, Mandarin Essential Oil, Sweet Orange Essential Oil. 
---
More from this collection