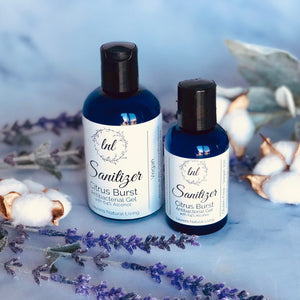 Clearance! Sanitizing Citrus Gel
Regular price
$5.00
Sale price
$7.99
THIS PRODUCT IS BEING DISCONTINUED- GRAB YOURS BEFORE IT'S GONE FOR GOOD!
A powerful alcohol and citrus gel for on-the-go cleansing of hands and surfaces that leaves skin moisturized. Packaged in a 4oz bottle with dispensing cap for easy application and a 2oz for travel. 
Constantly cleansing hands is important, but it can leave skin red and dry. Enter this excellent hand cleansing gel: 64% Alcohol that is both non-GMO and sustainably sourced. The hint of citrus make this a reliable cleanser for hands while hemisqualane and lactic acid leave skin soft and supple.

Dries quickly but gives alcohol time to do its work. Stock up for personal use, at work, in restaurants, and around the home whenever extra cleansing is necessary.
Product Highlights:
-64% Alcohol is a powerful and safe cleanser designed for cleansing hands and surfaces
-Ideal for frequent use as it leaves skin moisturized while still delivering strong cleansing action
-A delicate citrus scent works in any scenario and is light enough to leave only the mildest pleasant citrus scent behind
-Formulated with non-GMO, sustainably sourced Alcohol and is an ideal cleanser to stock up on and supply friends and family.
-Correct water content prevents the alcohol from evaporating too quickly to be effective
Ingredients: Alcohol, Water, Hydroxyethylcellulose, Lactic Acid, Hemisqualane, Pink Grapefruit Essential Oil, Lemon Peel Essential Oil, Lime Essential Oil, Litsea Fruit Essential Oil, Mandarin Essential Oil, Sweet Orange Essential Oil. 
---
More from this collection