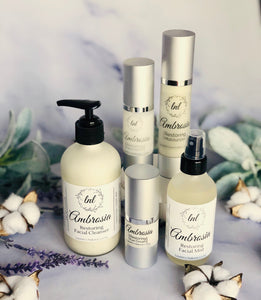 Ambrosia Skincare Collection
Regular price
$69.99
Sale price
$74.99
Experience the Ultimate in Opulent Skin Transformation - The Ambrosia Collection
Unlock the secret to radiant, rejuvenated skin with the Ambrosia Collection – a harmonious symphony of luxurious skincare essentials that promise to elevate your daily routine to an indulgent experience like no other.
 Ambrosia Restoring Cleanser:
Begin your skincare ritual with the Ambrosia Restoring Cleanser, a true masterpiece that brings new life to your complexion. Enriched with antioxidant-rich organic teas and vitalizing vitamins, this cleanser soothes, tones, calms, and refreshes your skin, preparing it for the transformative journey ahead.
Ambrosia Restoring Facial Mist:
Elevate your skincare routine with the Ambrosia Restoring Facial Mist, a rejuvenating blend that prepares your skin to receive the full benefits of serums and moisturizers. MSM and USDA-certified organic banana fruit powder brighten and hydrate your skin, ensuring it remains radiant and refreshed throughout the day.
Ambrosia Restoring Serum:
Experience the Ambrosia Restoring Serum, a light, organic aloe-based elixir that glides over your skin, imbuing it with hydration, balance, and a silky-smooth texture. Organic blue-green algae, organic white willow bark, and organic neem work in harmony to cater to various skin types, revealing a complexion of harmonious beauty.
Ambrosia Restoring Crème:
Indulge your senses with the Ambrosia Restoring Crème, a lavish masterpiece that envelops your skin in a velvety caress. Its deeply penetrating formula, enriched with DMAE and MSM, unveils dramatic results, leaving your skin utterly captivated.
Complete Your Journey with the Ambrosia Collection:
Immerse yourself in opulent luxury with our meticulously crafted Ambrosia Restoring Crème, Serum, Cleanser, and Facial Mist.
Revive and rejuvenate your skin's natural beauty with skin-loving ingredients like Meadowfoam Seed Oil, Organic Blue-Green Algae, DMAE, and more.
Effortless application and elegant packaging ensure a convenient and delightful skincare experience.
Ideal for normal to dry skin types, the Ambrosia Collection caters to a wide spectrum of skin needs.
Indulge in the complete Ambrosia Collection today and enjoy an exclusive 5% discount, a gesture of our commitment to your journey towards radiant, revitalized skin.
---
More from this collection