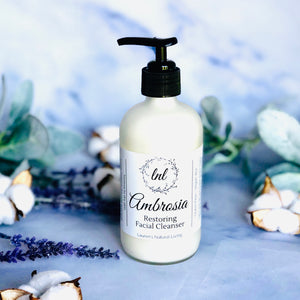 Ambrosia Restoring Facial Cleanser
Regular price
$24.99
$0.00
Ambrosia Restoring Cleanser - Revitalize and Replenish Your Skin
Discover the Ambrosia Restoring Cleanser, a true masterpiece in skincare that brings new life to your complexion. This unique formula is enriched with organic teas and vitalizing vitamins, carefully combined to create a harmonious blend that soothes, tones, calms, and refreshes your skin.
Benefits:
Antioxidant-Rich Formula: Immerse your skin in the goodness of antioxidant-rich organic teas and vitamins, helping to restore and enhance your skin's radiance.

Deep Nourishing Cleanse: Experience a cleansing ritual like no other. The gentle, lotion-like texture effortlessly removes dirt, oil, and makeup, leaving your skin soft, supple, and beautifully nourished.

Elegant Packaging: The Ambrosia Restoring Cleanser is presented in an elegant 8oz frosted glass bottle. The added locking pump ensures each application is effortless and convenient.
Skin Superfoods:
Organic Tea Extracts: Enjoy the soothing benefits of organic tea extracts, working together to rejuvenate and revive your skin's natural beauty.

Vitamins A, B5 & C: Infuse your skin with essential vitamins that replenish, protect, and reveal a complexion that exudes youthful vitality.

DMAE: Elevate your skincare routine with DMAE, renowned for promoting improved skin tone and texture.

MSM: Experience the benefits of MSM, a natural mineral that contributes to a radiant, vibrant complexion.
Vegan & Gluten-Free:
Our Ambrosia Restoring Cleanser reflects a mindful approach to skincare, crafted to be vegan and gluten-free, ensuring your skin receives the purest care.
Reveal the potential of your skin's beauty with the Ambrosia Restoring Cleanser. Elevate your cleansing experience and embark on a journey to radiant, revitalized skin that reflects your inner glow.
Usage Instructions:
Achieve optimal results with these simple steps:
Cleansing Ritual: Gently cleanse your face and neck both in the morning and evening. Using circular motions, work your way upwards, treating your skin with care. Remember, a light touch is all you need for effective cleansing.

Serum Application: After cleansing, apply Ambrosia Restoring Serum to amplify your skincare routine.

Moisturize: Follow up with Ambrosia Restoring Moisturizer, allowing your skin to bask in its nourishing embrace.

Eyes Need Love Too: Don't forget the delicate skin around your eyes. Apply Celestial Restoring Eye Cream to complete your rejuvenating regimen.
Ingredients: Organic Aloe Leaf Juice, Organic Alcohol, Organic Olive Fruit Oil, Emulsifying Wax, Glycerin, Organic Rooibos Leaf Extract, Organic Green Tea Leaf Extract, Organic White Tea Leaf Extract, MSM, DMAE Bitartrate, Vitamin E, Sunflower Seed Oil, Organic Neem Seed Oil, Organic Rosemary Leaf Extract, Organic Sunflower Seed Oil, Vitamin A Ester, Vitamin C Ester, Provitamin B5, Xanthan Gum.
Great product
Love my Ambrosia face wash! Great product. It cleans and helps to moisturize my dry skin.
Amazing!
I absolutely love this cleanser! I have been using Clinique's Acne Solutions for 6 years which uses salicylic acid as its active ingredient. It's pretty harsh, but I couldn't find anything "natural" to switch to that would also keep my acne problems at bay. I was nervous about making the transition to this product, but this cleanser has kept my face clean and clear! I have so much joy in knowing that I am not harming my skin with harsh/unknown chemicals *and* that I am supporting a local entrepreneur and not a huge corporation.
Gentle Face Cleanser
Gentle face cleanser. Washes make-up off nicely even mascara with cleanser and warm water.
---
More from this collection