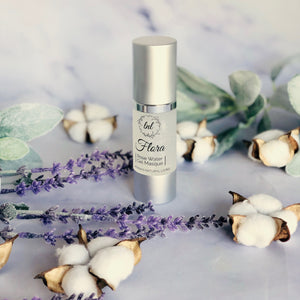 Flora Rose Water Gel Masque
Regular price
$14.99
$0.00
Flora Rose Water Gel Mask - Emerge with Renewed Radiance
Indulge in the rejuvenating embrace of our Flora Rose Water Gel Mask, a symphony of botanical goodness crafted to unveil your skin's renewed radiance. This exquisite mask offers a revitalizing experience, with a gentle coolness and the enchanting essence of roses. After the pampering ritual, your skin emerges refreshed, rehydrated, and serenely composed. The luxurious 50ml airless pump bottle ensures effortless application, enhancing the elegance of your skincare regimen.
Skin Superfoods:
Rose Distillate: Infused with a symphony of vitamins, minerals, and antioxidants, Rose Distillate brings forth an array of emollient properties to embrace and moisturize dry skin. Its antiseptic and astringent virtues cater to acne-prone skin, while its anti-inflammatory grace pacifies redness and inflammation.
Konjac Powder: Experience the botanical magic of Konjac Powder, a natural moisturizer that mirrors the youth-enhancing abilities of hyaluronic acid. By delivering surface hydration, Konjac Powder promotes a supple and elastic complexion.
Key Features:
Elevating Coolness: Immerse yourself in the elevating coolness of Flora Rose Water Gel Mask, offering a revitalizing sensation that uplifts your skin and spirit.
Revitalizing Hydration: Experience the reviving touch of hydration, as our mask infuses your skin with moisture, leaving it refreshed and invigorated.
Botanical Symphony: Delight in the botanical symphony of roses, as the enchanting scent of Flora Rose Water Gel Mask captivates your senses.
Dual Ritual:
Rejuvenating Mask: Apply a thin layer of the mask to your cleansed skin, allowing it to rest for five to 20 minutes. Gentle rinsing reveals skin that is ready to embrace your usual toning and moisturizing routine.
Soothing Gommage: For a gentle gommage experience, apply a thin layer to cleansed skin. As it dries slightly, gently rub off to unveil supremely smooth skin, refreshed and renewed.
Step into the realm of Flora Rose Water Gel Mask – where botanical serenity meets revitalizing indulgence, revealing a complexion that radiates with renewed vibrancy.
Ingredients: Rose Flower Water, Glucomannan, Phenoxyethanol, Tetrasodium EDTA
Easy refreshing masque.
Lauren's Flora Rose Water Gel Masque is so easy to use. Apply after shower and by the time you have lotioned or pampered the rest of your body, the masque can be ready to be washed off leaving your skin refreshed and ready for your facial moisturizer.
Really nice
I think if I were a masque 2-3 times a week person this would be a 5 star product. I like it, but as a stand-alone I didn't get quite the oomph I was looking for. If I use a salicylic treatment first it's nicely calming and lightly moisturizing after.
Works great and smells amazing!
This Rose Mask is the bomb! It's soothing gel is a great go-to for me at the end of the day when I'm settling down. I leave it on for about 15 minutes and enjoy it's wonderful rose scent (which is a therapy all on its own!) and let the skin beautifying properties of rose water do their thing!
---
More from this collection