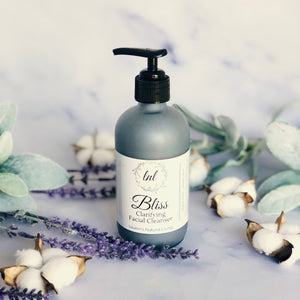 Bliss Balancing Facial Cleanser
Regular price
$22.99
$0.00
Discover Tranquility with Bliss Balancing Cleanser
Unveil the secret to serenely balanced skin with our Bliss Balancing Cleanser, meticulously crafted for those facing the challenges of stressed and problematic skin. Infused with Activated Charcoal and enriched with potent antioxidants, this cleanser embarks on a journey to calm, smooth, and tone your complexion, bestowing upon you the gift of fresh, nourished skin.
Key Features:
Activated Charcoal Elixir: Crafted with the power of Activated Charcoal, this cleanser becomes a beacon of purity, effectively drawing out impurities, bacteria, and pollutants that may be residing within your pores.

Harmonizing Antioxidants: Embrace the soothing touch of antioxidants that grace this cleanser, working harmoniously to rejuvenate and revitalize your skin, guiding it towards a state of equilibrium.

Gentle Exfoliation: Experience the grace of gentle exfoliation as the cleanser delicately lifts away dirt and debris, revealing a newfound radiance without overwhelming your delicate skin.

Blemish-Free Brilliance: Bid adieu to blemishes and acne scars as Activated Charcoal's prowess shines through, lightening darkened skin and promoting a clearer, more uniform complexion.

Calm the Storm: The anti-inflammatory properties of Activated Charcoal come to your rescue, pacifying the fiery inflammation that often accompanies stubborn cystic acne.

Sebum Harmony: Say farewell to excess oiliness as Activated Charcoal lends its expertise to balance sebum production, unveiling a harmonious partnership between your skin and its natural oils.
Complete Your Ritual:
Pair your Bliss Balancing Cleanser with our Bliss Balancing Facial Toner, Bliss Balancing Serum, and Bliss Balancing Moisturizer for a comprehensive approach toward skin tranquility.
Skin Superfoods:
Organic Tea Extracts
Activated Charcoal
Organic Jojoba Oil
Hyaluronic Acid
DMAE & MSM
Elevate your skincare journey with the Bliss Balancing Cleanser – a sanctuary of balance, harmony, and blissful radiance.
Embrace the Bliss Collection: A Simple Skincare Ritual
Discover the Bliss Collection and unlock a harmonious skincare routine for balanced and radiant skin. Follow these straightforward steps to experience the soothing effects:
1. Cleanser:
Cleanse your face and neck in the morning and evening using circular motions. Be gentle; let the Bliss Balancing Cleanser's Activated Charcoal and antioxidants work their magic.
2. Toneer:
After cleansing, apply Bliss Balancing Facial Toner to your face and neck to prepare skin for the next step.
3: Serum
Gently press a few drops of Bliss Balancing Serum onto your cleansed and toned skin, embracing its rejuvenating qualities.
Moisturize:
Complete the ritual by massaging Bliss Balancing Moisturizer onto your face and neck for hydration and comfort.
Pro Tips:
Employ gentle circular motions for a delicate touch.
Hands are perfect, but optional washcloths can be used.
Ingredients: Organic Aloe Leaf Juice, Organic Alcohol, Organic Olive Fruit Oil, Cocamidopropyl Betaine, Decyl Glucoside, Lauryl Glucoside, Emulsifying Wax, Glycerin, Organic Jojoba Seed Oil, MSM, Organic Rooibos Leaf Extract, DMAE Bitartrate, Activated Charcoal, Tamanu Oil, Organic Green Tea Leaf Extract, Organic White Tea Leaf Extract, Usnea Extract, Organic White Willow Bark Extract, Provitamin B5, Vitamin C Ester, Vitamin E, Sunflower Seed Oil, Xanthan Gum.
Cleans AND Hydrates
I have that super fun combination skin that gets both dry and oily almost immediately after washing it. This cleanser is both really effective in managing break outs and oil while also leaving my skin hydrated thanks to the Hyaluronic acid. Love Lauren's products, and this one is a keeper.
Sensitive
Really doesn't foam. If your looking for a cleanser for sensitive skin and all ethnic skin tones this is the one. It has good slip with little product, cleanses deep, is calming, packed with antioxidants
Great performance, bad smell
I'm torn on this product. Performance wise it's wonderful. Gentle but effective cleanser and left my skin feeling really soft. However I can't get over the strong alcohol smell.
No more problems
We love this face wash. My daughter has had a hard time with keeping her acne under control. But ever since she started using Lauren's face wash, her face has cleared up. Hope it is back in stock soon.
---
More from this collection